Truck driving necessitates not only being attentive and careful on the road but also knowing how to get to your destination and where to find fuel and truck stops along the way. In addition, you'll need to know where to park overnight, how to get to your destination, which highways to avoid, and where the loading docks are, among other things. GPS for trucks navigation gadgets make it much easier for truck drivers to go about on a daily basis.
While most drivers in a standard car don't have to worry about making it under a bridge, truck drivers don't have that opportunity. Moving a huge truck takes a lot more thought and work on the driver's behalf. This is why knowing what is the best GPS for truckers and what is the best trucker GPS app is critical for drivers. It's all about having the right tools for the task.
Is there a Special GPS for Truck Drivers?
Because truck drivers' needs differ from those of other drivers, there are various GPS systems made specifically for the trucking industry. Trucking GPS navigation aids truckers in a variety of ways, including avoiding heavy traffic, finding the best and fastest routes, maintaining confidence on unfamiliar roads, and generally making their job less stressful and enjoyable.
The following are some of the advantages of utilizing a GPS for truckers:
Route time was saved

Fuel prices are lower

Stress is reduced

Route safety has been improved

Increased productivity.
Truck GPS navigation devices are not the same as those found in your average vehicle or truck. The displays are often larger, designed for daily usage, and include more complex, but required, capabilities that truck drivers use to get to their destination safely and effectively. The following are some of the most important features of truck GPS navigation devices:
Traffic updates in real-time to keep you on track

Specialized trucking routes for your truck's weight and dimensions

Cost estimates for toll roads

Low bridges and overpasses information

Assist in avoiding roads depending on vehicle size and weight.

WiFi connectivity, as well as the ability to use speakers, backup cameras, and other devices

For your vehicle's safety, assistance in remaining on permitted roads is available.

Assist you in keeping your ELD up to current and accurate.
Semi-trucks have different requirements for where they may and cannot drive. Some loads, such as Hazmat loads, have additional requirements than others, such as route regulations for safety. Investing in a trucker GPS navigation device will assist you in staying on the right track, arriving at your destination safely, and avoiding fines for driving the wrong road.
What To Look For In A Great Truck GPS Unit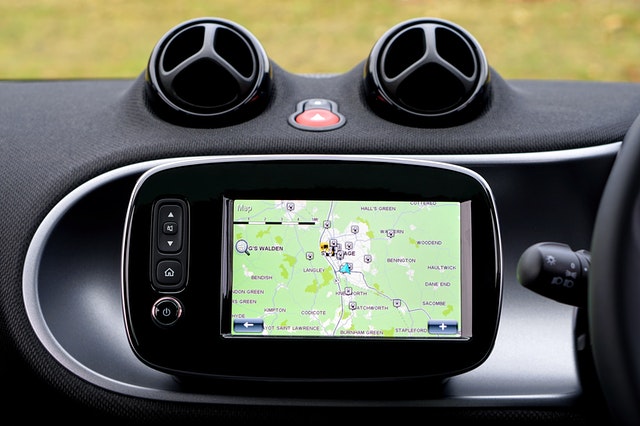 Screen Size — Look for screens that are larger than 6-inches since they are easier to view, especially when placed on your truck dashboard. Larger displays are also more convenient to operate, particularly while wearing gloves.
Detailed Mapping – Look for units that have zoom images and the option to zoom all the way down to street level, as well as the ability to use 3D Maps for streets and highways.
Traffic Alerts – Nothing is more annoying for a trucker than being caught in traffic and knowing that it is costing you money to be trapped in traffic when you should be on your way to your next job. Traffic Alerts keep you out of the worst traffic jams and, as a result, keep you moving.
Turn-by-Turn Directions will now include the ability for your GPS navigation unit to show you which lane you should be in at any complicated interchange.
Weather Forecasts – Ask any trucker, and they'll tell you that the hardest thing they have to deal with, other than traffic, is the weather. Look for a GPS unit that can provide you with weather updates and keep you safe from storms and snow jets.
Customizable Features – such as the opportunity to enter your truck's length, width, and height and have our directions generated with these measurements in mind to ensure that you don't hit any low bridges or prohibited zones.
Trucking Driver Assists – these might include trucking petrol stations or overnight parking sites where you can park your truck and sleep.
Extra Features – include fuel cost estimation, route saving, toll roads and their costs, trip logging with an automated log monitor, and driving information such as average fuel consumption speed and time to destination.
Read more >> Top 5 Best Semi Truck For Trucker Drivers
What Is the Best GPS for Truckers?
The answer to the question, "What is the best GPS for truckers?" has a large number of comments. What works for one driver might not work for you, or it might be more than you require. It's critical to look at the features you desire and require as well as the pricing of trucking GPS navigation equipment. You should take your time choosing the greatest GPS for trucks because it is such an important investment.
Garmin dezl 570LMT
Cost: Aprox $280
Rating: 4.7 Stars
Description: This GPS comes in a convenient 5″ size with a glass display and dashboard mounting.
Features: include a truck and trailer services directory that allows drivers to quickly determine which truck stops provide the services they require. You may even customize it to your preferences. Bluetooth, detailed maps, frequent updates, hands-free voice activation, and spoken directions are all included in this trucker GPS navigation device to keep you on the correct track.
Garmin dezl 760LMT
Cost: Aprox $370
Rating: 3.7 Stars 
Description: Touchscreen display with a 7″ screen. While driving, enhanced speakers make it easier to hear directions.
Features: This trucking GPS includes Active Lane Guidance, lifetime map updates, customized routes for truckers in Canada and the lower 48 states of the United States, backup camera compatibility, and Bluetooth.
Garmin dezl 770LMT
Cost: Aprox $450-$500
Rating: 3.9 Stars
Description: 7″ HD screen with a tempered glass display.
Features: This GPS for truckers includes a truck and trailer services directory, personalized trucking routes, lifetime map updates, weigh station notifications, traffic and weather information, backup camera compatibility, and Bluetooth capabilities for hands-free operation.
Rand McNally TND 520
Cost: Aprox $400
Rating: 3.9 Stars 
Description: Display screen with a size of 5 inches.
Features: This trucker GPS navigation unit includes weather, fuel pricing, traffic, and travel center updates, as well as fuel and mileage log monitoring.
Rand McNally TND 740
Cost: Aprox $390
Rating: 3.5 Stars 
Description: A 7-inch LCD screen with a speaker that may be adjusted.
Features: Compared to other GPS devices, this trucker GPS navigation unit provides more detailed routing information. It has WiFi, regular route updates, wind speed updates, and a feature that allows drivers to keep track of their previous journeys.
TruckWayGPS – Model 720
Cost: Aprox $150
Rating: 3 Stars
Description:  The display is a large 7-inch touch screen with a resolution of 800×400 pixels.
Features: For the United States and Canada, this trucker GPS navigation gadget provides current and up-to-date maps, 3D maps, and free maps. You may also enter your truck's weight and directions to get the optimal route for the sort of load you're transporting.
While trucking GPS navigation systems are more expensive than conventional trucking GPS navigation units, the extra expense is definitely worth it for the customizable features and increased road safety. Truck-specific GPS systems even allow you to enter your truck's measurements, allowing you to plan routes that avoid low underpasses or have weight limitations, ensuring that you arrive safely at your destination. By conducting your research and finding the best GPS for truckers, you can determine what is the greatest GPS for truckers.
What Are the Best Trucker GPS App?
A GPS unit simply isn't enough for many drivers to get the information they want or need. Many drivers choose to utilize supplemental applications such as Google Maps to double-check their position and approach. Additionally, some applications include information and capabilities that GPS systems do not, such as extra information on truck stops, the best places for truckers to eat, the greatest locations to stay the night, updates on whether stops are open, and even ratings from other truck drivers on how these places are.
The following are some of the finest trucker GPS apps:
CoPilot GPS/CoPilot Mobile Navigation

Waze

PTV Navigator

Trucker Path

inRoute Route Planner

Sygic

Google Maps
For increased features and benefits, many truck drivers augment their GPS systems with other applications. There are a number of excellent trucking (and general) GPS applications available that may assist truckers in planning their route and locating wonderful places to eat and relax along the way. But which GPS app for truckers is the best? We've compiled a list of the finest free and paid applications that truckers use to get the job done.
Google Maps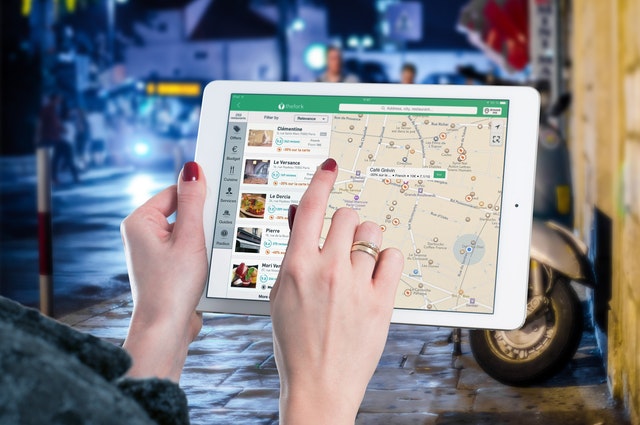 Google Maps is well-known, gives regular updates, and allows you to explore hotels, restaurants, gas stations, and exchange information with other drivers. It is maybe the greatest trucker GPS software or at least one of the most popular trucker GPS applications. Google Maps is a truck GPS App for Android and iOs users
Waze
Waze, one of the finest trucker GPS applications, relies on crowdsourcing to provide truck drivers with the most up-to-date information about routes, traffic, accidents, gas prices, and road closures, among other things. Waze offers automated rerouting to keep you on track and get you to your destination faster. While Waze requires internet connectivity, it is a free program that is available for iOS, Android, and Windows.
Trucker Path
This app comes in first place on our list of the best trucker GPS applications. Drivers may use Trucker Path to identify the finest rest spots, weigh stations, nearby Walmarts, truck washes, and other amenities. It also tells you where to get the greatest fuel rates and user reviews from other truckers so you can take the smoothest and fastest route to your destination. This software is free with in-app purchases and is available for iOS and Android devices.
CoPilot GPS/CoPilot Mobile Navigation
This app is more detailed than Trucker Path, but it also costs $9.99 for a one-month membership for iOS and Android. It lets drivers register their vehicle's dimensions and weight before going on a trip, offers customized truck driver directions, and displays rest spots, weigh stations, CAT scales, and even areas of interest along the way. It's easy to understand why this program is one of the top trucker GPS applications available, with over 16 million other truckers using it.
SmartTruckRoute
This trucker GPS software allows you to use street view, satellite views, or even hybrid views to see where you're going. SmartTruckRoute provides you with the quickest route to your destination, as well as economical petrol and automatic updates. The cost is determined by the subscription type you select.
DAT Trucker
This free app has extremely precise maps and can assist truckers to find weight scales, truck stations, truck-friendly motels, and restaurants, as well as comparing diesel prices.
PTV Navigator
This is one of the finest trucker GPS applications since it was designed exclusively for truckers, so it offers route ideas and updates depending on your vehicle's size, weight, and other constraints. PTV Navigator also tracks your mileage, which helps you maintain your ELD up to date. The main drawback is that this software is only available for Android and costs $26.99. They do, however, provide a 14-day free trial, giving you plenty of time to determine if the app is appropriate for you.
inRoute
This route costs $14.99 in the App Store and is great for lengthy journeys. It informs drivers on where to rest and eat, as well as weather and road conditions.
Read more >> Best Semi Truck Engine Brands for Truck Drivers
What Is the Best Free Truck GPS App?
Google Maps may be the most popular free truck GPS app. Many drivers use Google Maps in addition to their other GPS applications or trucking GPS navigation systems to get a good look at the delivery destination before they travel, so they can plan their approach and even see where the loading docks are. This prevents you from missing a turn or approaching a property where you won't be able to get your vehicle to the loading dock. Although the images and satellite map are helpful, it's crucial to remember that Google Maps isn't always correct, as it depends on when the satellite photos were taken.
Google Maps may be used to find truck stops, plan routes, locate fuel, and exchange information with other truckers on the road. The following are some of the best trucker GPS apps which is free:
Trucker Path:

Available on iOS and Android, with in-app purchases.

Waze

is a free, crowd-sourced navigation app. Devices running iOS, Android, and Windows are all supported..

DAT Trucker

is a free

truck GPS App for Android

on the Google Play Store.
While many of these applications can assist you in getting to your location, they should be used as a complement to your trucker's GPS navigation rather than as a replacement.
Is There an App for Road Conditions?
The finest trucker GPS applications, like other GPS navigation units, contain information on road conditions to keep you safe on the road. The following are some of the finest trucker GPS applications that include weather and traffic updates:
Waze

Trucker Path

PTV Navigator

CoPilot GPS

Google Maps
Try out a few different road conditions apps to see which one works best for you.
You're ready to check them out and select the finest one that works for you now that you know the answer to "What is the best GPS for truckers?" and "And what's the best trucker GPS app?" It's critical to utilize trucking GPS navigation devices and applications since they keep you and others safe on the road.
Even if you have a fantastic GPS unit and app, you should always have a good physical map on hand in case something goes wrong. Finding the right trucker GPS navigation unit or app may also save you money on petrol and keep you from receiving unnecessary fines. Whatever sort of trucking job you have, stay on the right path.
If you're planning to get a CDL License, let's start practicing with our free CDL Practice Test 2021 now!