To operate a CMV, every CDL driver must have a DOT medical card. A CDL medical card verifies that you are physically capable of safely operating a commercial motor vehicle and that you have no health problems that could endanger other drivers. So, what is a DOT Medical Card? Let's learn more in this article.
What is a DOT Medical Card? 
When driving commercial vehicles, a DOT medical card is a must-have piece of medical documentation. You may need to assist your drivers in getting a Department of Transportation (DOT) physical and a DOT health card as soon as possible to keep them on the road. Scheduling a DOT physical with a regular doctor's office can take days or weeks. 
Truck drivers who do not have a DOT medical card may be forced to sit out for days or weeks, forcing trucks to be taken off the road and causing operational problems. 
What does a DOT medical card look like? 
Many truckers refer to a "medical DOT card" or "DOT medical card," although it is actually a document called a Medical Examiner's Certificate, not a card. It is given after a physical examination by a certified medical examiner (ME).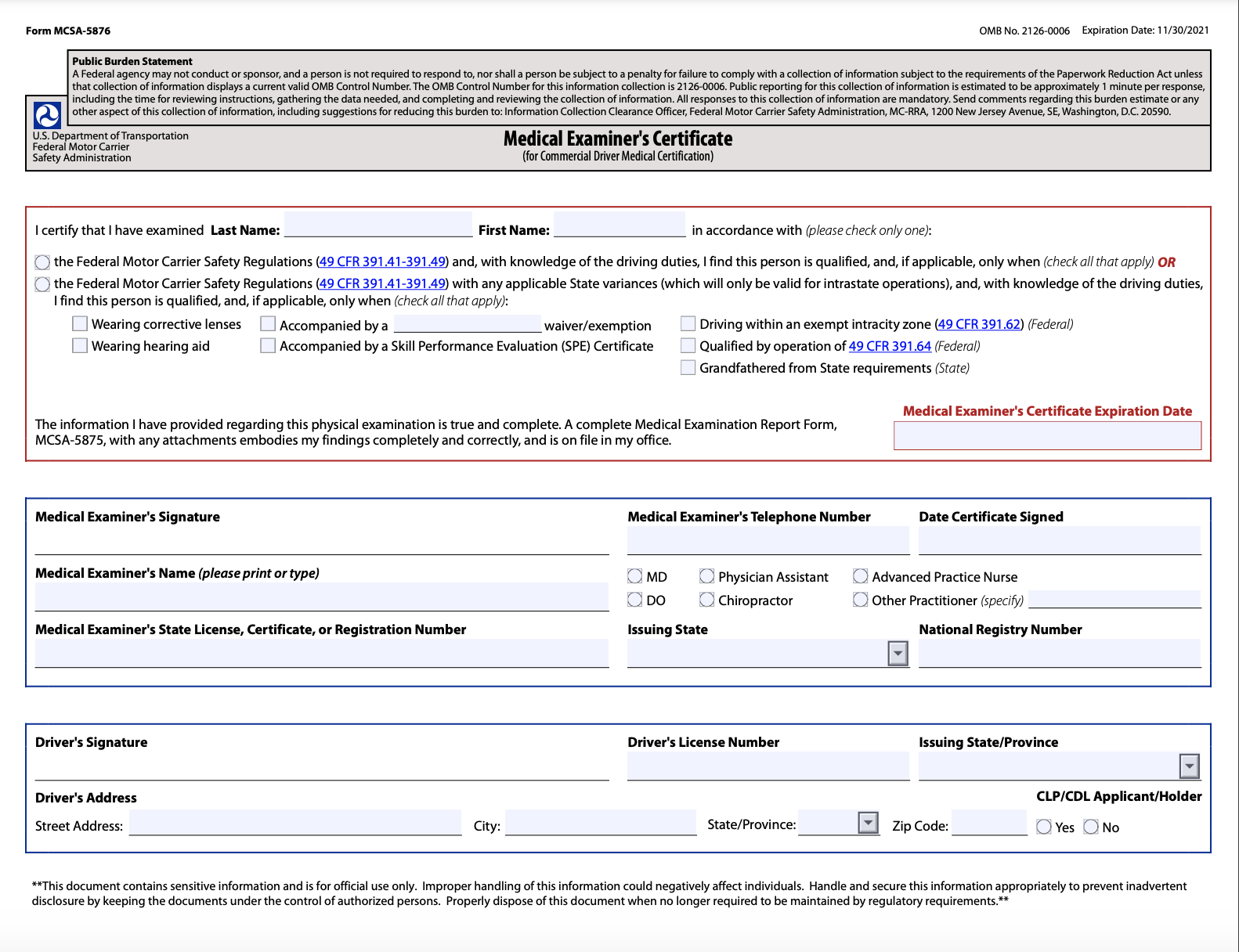 You can click HERE to have a closer look at what an official Medical Examiner's Certificate looks like.
Who needs a DOT medical card?
Anyone driving any of the following vehicles must get a DOT physical and a DOT medical card:
Vehicles with a gross vehicle weight rating (GVWR) of more than 10,001 pounds

When direct compensation is involved, vehicles designed to transport more than 15 people or 8 passengers

Hazardous material transport vehicles
To keep your CDL valid, you must have a valid DOT medical card. Your DOT medical card can only be obtained from a provider on the National Registry of the Federal Motor Carrier Safety Administration. The following are a list of service providers:
Doctors of medicine

Doctors of osteopathy

Physician's assistants

Advanced practice nurses

Doctors of chiropractic 
Read more >> How To Get DOT Certification in 2023?
Your DOT medical evaluation examines both your current health and your medical history. The medical examiner will issue your DOT physical card if there are no health conditions that would prevent you from safely operating a CMV. A CDL medical certificate will also be completed by the medical examiner.
The validity of your DOT medical card is up to 24 months. If you have a health condition that necessitates ongoing monitoring, such as high blood pressure, you'll be required to have a DOT test more frequently.
Doctors will fill out all of the information on the medical exam report, as well as any supporting forms and documentation, for drivers who pass the DOT physical card exam. All DOT physical standards must be met in order to acquire a Commercial Driver's License DOT health card.
For commercial truck drivers and school bus drivers, passing the DOT health card exam will result in certification or renewal of their CDL.
You must undergo a DOT (Department of Transportation) physical and obtain a DOT medical card if you are or intend to be a commercial vehicle driver. This is done to ensure that you are fit enough to operate a commercial vehicle. 
"What is a DOT medical card?" you surely have your own answer, right? Hope you find this article helpful for you and wish you to pass DOT physical.
If you are planning to take a CDL License, let's get started with our free CDL practice test pack on this website!