If you own a business and plan to use a truck for deliveries or shipments, you may need to obtain the vehicle certified by the Department of Transportation (DOT). A vehicle must meet very specific requirements in order to be authorized for commercial operation by the DOT. These specifications cover everything from the manufacturing process to the labeling of the product's contents. Those planning to drive a commercial truck will also need to pass a DOT exam.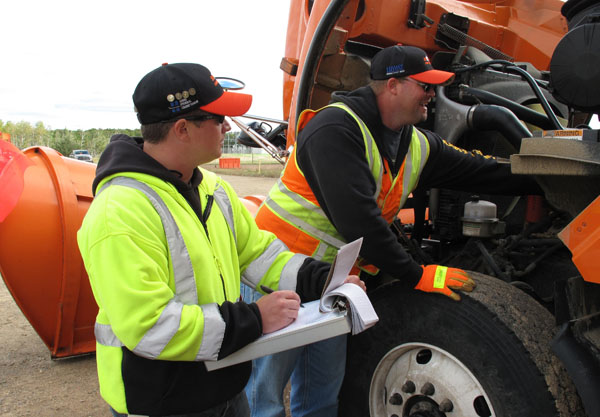 This article will help you obtain information about how to get DOT certification with three DOT requirements. Let's get started!
What Does DOT Certification Mean?
DOT certification is a quality seal that verifies a driver's ability to operate commercial vehicles on America's roads and highways. To operate commercial motor vehicles, such as semi-trucks, delivery vehicles, and public transportation, most states require DOT certification.
To obtain a commercial driver's license rather than a personal driver's license, you must first become DOT qualified. A commercial driver's license is required by most fleet drivers because it acts as proof of DOT certification.
To become DOT certified, a driver must pass a physical exam as well as a series of safe-driving tests. DOT certification is administered by the United States Department of Transportation. Commercial motor vehicle operators must renew their DOT certification every two years.
How To Get DOT Certification?
Individuals who operate CMV vehicles must have DOT certification. Those that finish DOT certification training demonstrate that they have gone through the appropriate training, inspections, and exams to become DOT certified. Furthermore, DOT certification demonstrates that the holder is authorized to operate a commercial motor vehicle and adheres to safe driving practices.
You must meet the following DOT certification requirements for how to get dot certified:
You must first obtain a DOT number
A truck and its owner are identified by a DOT number. This aids the FMCSA in gathering information on the company and the driver's safety. A common misunderstanding in fleet management is that DOT numbers are only required for long-haul trucking fleets. If you intend to operate any type of commercial vehicle in the United States, you must first decide if you will require a DOT number. While the majority of states require a DOT number for a wide range of commercial vehicle operations, some states do not, and some exemptions apply.
New applicants must register for a DOT number online using the Unified Registration System in order to obtain one. You will be required to complete an application and pay a filing fee. When applying for this number, you must state what type of business you intend to conduct. Motor carriers, brokers, shippers, freight forwarders, and cargo tank facilities are among the categories. For the public's protection, the FMCSA is also required to keep track of any information about hazardous item transportation. 
After your application has been approved, you will receive your DOT number.
You must take and pass a DOT medical exam
A vehicle operator must pass a Department of Transportation physical examination ( DOT Physical Exam) before driving a commercial truck. This examination must be conducted by a licensed medical examiner who is on the National Registry of the Federal Motor Carrier Safety Administration. Doctors, physician assistants, nurses, and other medical professionals certified in conducting DOT exams may be found on the National Registry of Certified Medical Examiners.
This test verifies that you are physically capable of operating a CMV safely. Furthermore, it demonstrates that you have no medical issues that would preclude you from operating a commercial motor vehicle. Certified DOT medical examiners must finish this exam. For any underlying medical conditions, the DOT examiner will test your hearing, vision, blood, and urine. Passing the exam qualifies you for a DOT medical card.
The physical will be valid for up to 24 months after you've completed it. If you have a serious medical condition, the medical examiner may issue you a certificate that is only valid for two years. Certain medical concerns, such as high blood pressure, can be monitored this way.
What Is a DOT Medical Card?
Passing a DOT physical is evidenced by a DOT medical card. If you pass the exam, the physician who administered it will offer you this. Make sure your CDL medical card is safe and easy to find.
A Medical Examiner's Certificate is another name for the DOT medical card.
How Do You Get a DOT Medical Card?
After your medical examiner has passed the DOT physical, you will be granted a DOT medical card. If you don't get one after passing an exam, make sure to ask for one so you don't have to take and pay for a second one.
How Much Does a DOT Medical Card Cost?
A DOT medical card is included in the price of the DOT physical. The physician's office should not charge you more to provide you with a CDL medical card.
Who Needs a DOT Medical Card?
The DOT card serves as proof that you are fit enough to drive a commercial vehicle safely. It should be kept in your driver's qualification (DQ) file as temporary proof until you receive an MVR that reflects your most recent exam.
A DOT medical checkup and a DOT card are required for anyone operating the following vehicles in interstate commerce:
Vehicles with a gross vehicle weight (GVW), gross vehicle weight rating (GVWR), or gross combination weight (GCW) or gross combination weight rating of 10,001 pounds or more (GCWR).

Vehicles that can accommodate more than 15 people.

Vehicles that are delivering hazardous items and must be placarded.
Drivers with a Class A, B, or C CDL who are certified as "non-exempted interstate" are no longer required to carry their DOT medical card as of January 30, 2015.
Your vehicle must pass a DOT inspection
A certified DOT inspector must complete this inspection. Your car will be inspected by the inspector to ensure that it is safe and that all parts and accessories are in functioning order. In addition, the inspector will inspect your truck to ensure that your DOT number is correctly displayed.
When you meet the DOT certification requirements listed above, you will be DOT certified. You'll be held to a higher level of accountability and experience than a non-commercial driver once you're qualified. To keep your DOT certification valid, you must meet all DOT requirements.
After you've completed the above requirements, you'll be DOT certified. If you wish to keep driving, your DOT certification is valid for up to two years and must be renewed. Getting your DOT certification ensures that you and other drivers stay safe on the road. Failure to meet DOT certification requirements might result in your license being canceled.
We hope this article helps you learn how to get DOT certification and get DOT certified in the near future.
If you are planning to get your CDL license, let's take our free CDL practice test pack with various practice tests for all CDL endorsements.