In California, you might be hired to run a commercial motor vehicle (CMV) carrying cargo within state lines. And obtaining a California CDL is required if you want to apply for this type of job. So, this California CDL study guide is made for you.
The class of legal driver's licenses depends specifically upon the type of vehicle you intend to operate. 
The purpose of the California CDL study guide is to help you gain enough knowledge you need, and get you a good preparation before taking the driver's examination and obtaining a California driver's license. 
Let's make the CDL California Test be much easier to obtain by this detailed California CDL study guide and our free California CDL practice test. If you are learning to drive, this definitely is for you!
What is the CDL license?
Definition of CDL
CDL stands for Commercial Driver's License. California requires commercial motor vehicle (CMV) drivers to hold a valid Commercial Driver's License, well known as "CDL". California defines a commercial vehicle as one that transports for hire either people or products.
Besides, CDL is required to run a kind of large, heavy, or placarded hazardous material vehicle in commerce. In addition, drivers in CA must have a CDL if their primary job is driving, whether or not they drive a commercial vehicle.
So if you want to apply for a job where you will need to drive a specific type of vehicle in California, it's necessary to pass the CA CDL test in order to have a CDL depending on the vehicle you intend to run.
Type of driver license in California
Non-commercial Driver's Licenses (non-CDL)
A non-commercial driver's license holder can drive private vehicles with a few exceptions.
Commercial Driver's Licenses (also well known as CDL)
A commercial driver's license (CDL) allows drivers to have the ability to drive commercial vehicles meaning vehicles for work purposes.
The differences between CDL classes
To drive different types of vehicles, you should have the proper license to do so. It is classified into three types of license classes: CDL Class A, CDL Class B, and CDL Class C.
Type of license
Description
Vehicles you may drive
CLASS A
(holders are also permitted to drive commercial motor vehicles included in Class B and Class C with the proper endorsements)
Required to operate any legal combination of vehicles weighing over 26,000 pounds, with the towed vehicle is in excess of 10,000 pounds.
Tanker vehicles, Truck and trailer combinations, Tractor-trailers buses and Tractor-trailers (or any trailer buses), Flatbeds, Double/Triple trailers, Livestock carries
CLASS B
(with the appropriate endorsement, a class B holder may also operate certain Class C vehicles)
Allows you to operate any single vehicle with a GVWR of more than 26,000 pounds or any towed vehicle is not in excess of 10,000 pounds GVWR
Any single vehicle with 3 or more axles weighing more than 6,000 lbs; any bus except a trailer bus; any farm labor vehicle; any motorhome over 40 feet in length; any vehicle covered under Class C
CLASS C
Required for the operation of any vehicles that do not meet the criteria of Class A or B. It is also capable of transporting 10 or more passengers (including driver) or carrying hazardous materials
Any 3-axle vehicle weighing no more than 6,000 lbs; any 2-axle vehicle weighing more than 4,000 lbs when towing a trailer not exceeding 10,000 lbs; any motor home of 40 feet in length or less; any 5th wheel trailer under 10,000 lbs (e.g: HazMat Vehicles,
Tank Truck)

NOTE: Drivers must be at least 18 years old to drive within the same state. And the age of 21 or older is required for drivers to operate a Commercial Motor Vehicle on an interstate (traveling between two or more states) or transport hazardous materials. This applies to ALL classes.
CDL Endorsements in California
To drive specific vehicles and transport specific cargo, endorsements are required.
H – Hazardous materials (also known as HAZMAT)
N – Tank vehicles (also known as TV)
P – Passenger vehicle (also known as PV)
S – School bus and Passenger Transport (P)
T – Double or triple trailers
X – Combination of Tanker and hazardous materials (H, N)
F – Firefighter endorsement (employee or volunteer)
Note: Any Class C vehicle with 1 or more of 3 endorsements: HazMat, PV, TV
Steps required to pass a CA CDL test in 2023
An indispensable part of a study guide is the steps required.

California CDL study guide

is not an exception. Below is how to obtain a CA CDL steps by steps:
Read the California CDL Manual
Each state has its own CDL Manual that is officially published by the state's DMV. This is very valuable material for anyone who is planning to take their CDL driver's license. On this website, we provide you with an official version of the California CDL Manual that you can read online or download its pdf version.
Take the CA CDL practice test
It is obvious that in order to have perfect preparation, a good California CDL study guide along with practice tests will always be helpful before the real CDL California test.
Combining of CA CDL Manual and CA CDL practice tests on this website is the complete preparation you can have before taking the real test.
Get a commercial learner's permit (CLP)
If you have never had a CDL or you want to make an endorsement or classification that requires a skills test, you first need to get a CLP and hold it for at least 14 days. 
Below is how you apply and what need to notice for a CLP:
Obtain a standard California noncommercial Class C driver's license (DL) if you don't have one (a temporary DL is acceptable)

Complete an online CDL Application

Visit a DMV office, where you will complete such procedures as having your thumbprint scanned, passing a vision exam, having your photo taken, passing the knowledge test(s),…
Note:
If you don't meet all the requirements to get a CDL within a year from applying day, you must be reapplied cause the application will be invalid

The CLP is valid for a maximum of 180 days right from the date issued and it can be renewed for another 180 days if it's no more than 12 months since the application date

A CLP is limited to 3 endorsements: School bus (S) Passenger (P), Passenger (P).

If you have an N endorsement, the tanks must be empty while being driven. If you have a P or S endorsement, you cannot run a CMV with passengers

Apply for a HazMat Endorsement (if you are applying for or renewing a CDL with an H Endorsement) 
Pass the Skill Test
The final step in passing the whole CA CDL Test is to take a driving skills test, which includes a vehicle inspection, basic control skills test, and all other testings that will be postponed. You have 3 tries to pass the Skills Test or you will have to pay a retest fee for each time retaking.
If you pass the skills test, a CDL from CA will be issued to you.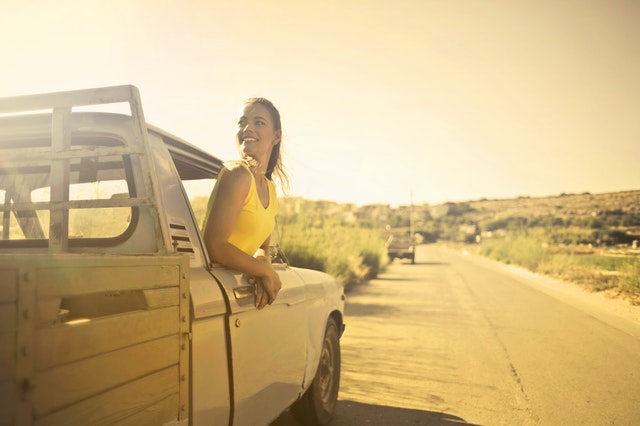 Knowledge and skills test required to get a CA CDL license
So what knowledge are you gonna face in the way of achieving a CA CDL license? The next part of this California CDL study guide would give you the answer.
To receive this license, applicants must pass a knowledge test, CDL practice test in California would be very helpful. Each question has three answer choices. To pass, applicants must answer 80% of the total questions correctly. 
Questions come from chapters covering: Introduction, Driving Safely, Transporting Cargo Safely, Air Brakes (if applicable), Combination Vehicles, Pre-Trip Vehicle Inspection Test, Basic Vehicle Control Skills Test, and On-Road Driving. Endorsements that may be used with a Class A CDL are Hazardous materials, Tank, Passenger, Doubles/Triples, HazMat and Tank, Air Brakes, and School bus.
In order to pass the CA CDL skills test, applicants must successfully perform all the required skills. The skills test must be taken in the vehicle that is present for the type of vehicle that the candidate operates.
Skills test waiver program
If you have a valid CDL from another state that is currently valid or has expired no more than 2 years, you can be waived for this skills test. 
Besides, the military CDL Test waiver is for military members who are currently licensed or have been employed within the last 1 year (12 months) in a military position.
The license must have an equal classification, endorsements, and restrictions to the one you are applying for in California
CDL knowledge written test(s) may be waived for certain military occupations through the Even Exchange program.
Note: These programs don't waive school bus endorsement requirements.
Pass the medical requirements
Self Certification
All CA CDL holders must proclaim to their State Driver Licensing Agency (SDLA) that they only operate commercially in 1 of 4 categories as below with their CDL. This process is called self-certification.
Interstate non-excepted: You must meet the Federal DOT medical card requirements

Interstate excepted: You don't have to meet the Federal DOT medical card requirements

Intrastate non-excepted: You are required to meet the medical requirements for the state of California

Intrastate excepted: You don't have to meet the medical requirements for the state of California
Hearing Test 
Be able to perceive a forced whispered voice in the better ear at not less than 5 feet apart with or without the use of a hearing aid

Tested by use of an audiometric device: must do not have an average hearing loss in the better ear no less than than 40 decibels at 500Hz, 1000HZ, and 2,000 Hz with or without a hearing aid
Vision Test
Vision in both eyes and each eye individually must be 20/40, with such permitted visual improvement devices as glasses or contacts

The ability to classify colors of traffic signals is necessary
Blood pressure Requirement
Needs to be no higher than 140/90. 

Using prescription medication to achieve this threshold is permitted
Urinalysis Testing 
Your urine sample might indicate hidden health problems after being tested in a lab for blood, sugar, and protein (insulin injection is not permitted)

Blood sugar might not be higher than 200
Physical disabilities (or known as physical impairments)
Definition and requirements
Drivers with physical impairments, which affect their ability to safely drive vehicles, must obtain a variance from the state of CA in order to be approved to operate commercially. The variance document needs to be carried whenever they are driving a commercial motor vehicle.
SPE program (stands for the Skill Performance Evaluation)
A Skill Performance Evaluation (SPE) is a special type of variance required for drivers with impaired or missing limbs (hands or finger, an arm, foot, or leg) driving in interstate commerce. 
SPE certification allows drivers with missing or impaired limbs to drive legally if they have been fitted with (or wearing) the right support device. The SPE certification must be carried at all times.
Alcohol Testing
CDL holders are considered to have consented to requirement tests by the state of CA or any state jurisdiction enforcement of being under the influence of a controlled substance or using alcohol or being under the influence of alcohol, having any measured alcohol concentration while on duty, or operating a commercial motor vehicle.
Prescription medication
Though a CDL holder has a legal prescription, he/she might be disqualified if the medication could adversely affect the driver's ability to drive.
Who doesn't obtain the CDL license in California?
Military vehicle operators
CA exempts people who run vehicles for military purposes from the requirement for CDL holders. This contains active military, reserves, and members of the National Guard.
Farm equipment operators
Including actual farm-to-market operations, not commercial grain haulers. Drivers must be at least at the age of 21 and vehicles must have farm plates.
Recreation Vehicle operators
Those who run recreational vehicles (RVs) for their own purposes non-commercial use can be exempted from CDL requirements.
CA Township or government workers
Many states will have specific CDL exemptions applying to workers in smaller towns or to state and local government employees in general. You will have to check with your own state regulations.
How to get a class CDL license in California?
CDL Knowledge Test
CDL Road Skills Test
Class A
consists of 50 questions

After passing the required knowledge test(s), you need to take a skills test with the type of vehicle you plan to drive. The skills test contains a pre-trip inspection, off-the-road maneuver and vehicle parking exercise.
Skill testing will be taken no more than 15 days after the knowledge testing is passed and a permit is issued.

Class B

50 questions and 20 additional questions for passenger, double/triples and tank endorsements. Besides, candidates can expect 30 questions in addition to earn the HAZMAT endorsement.
Class C
It's such a huge amount of knowledge that without the California CDL study guide, we cannot have good preparation. 
How much does the California CDL license cost?
Endorsement
Fees
an original (with or without a driving test)
$70 (for Class A or B)
$41 (for Class C)
a renewal
$41
a duplicate (replacement) license
$31
a commercial driving or skills retest
$30
a name change
$27
add a passenger transport endorsement (PV)
$70 (only for Class A or B)
add an endorsement other than PV or not requiring a driving test
$41
add a noncommercial Class A to a Class B
$41
add a firefighter endorsement
$27
Things you may do not need
Don't need a truck driving school
You may ask yourself whether you can skip the whole driving school deal. Of course, you can, you can study and practice with the help of this California CDL study guide and then complete your CDL California test without any driving school.
Self-studying is definitely much more money-saving. Moreover, there are many such helpful tools that will help you a lot to improve your knowledge as well as skills as information websites or our driver's license guide.
Don't need to pay for your state's CDL manual
California's CDL manual is totally free and you can get it easily online on many official, reliable websites. You can click HERE to read online or download it. 
Don't need to pay for the CA CDL practice test
If you want to pass your test for the first time, you certainly need to practice a lot. CDL practice test California is the total number of questions that might be included in the real CDL California test.
And you can easily find a reliable FREE CA CDL PRACTICE TEST online on our website for driving tests without any payment.
If you want to find more comprehensive support, don't mind contacting us via [email protected]. We are pleased to help you!