Long periods of time spent on the road might be lonely. It isn't always possible to bring a companion along for the voyage. You may have considered getting a puppy or other pet to keep you company if you don't have somebody to share the road with. That's a nice idea, but even the greatest dogs for truck drivers require some training before they can accompany you on your journey.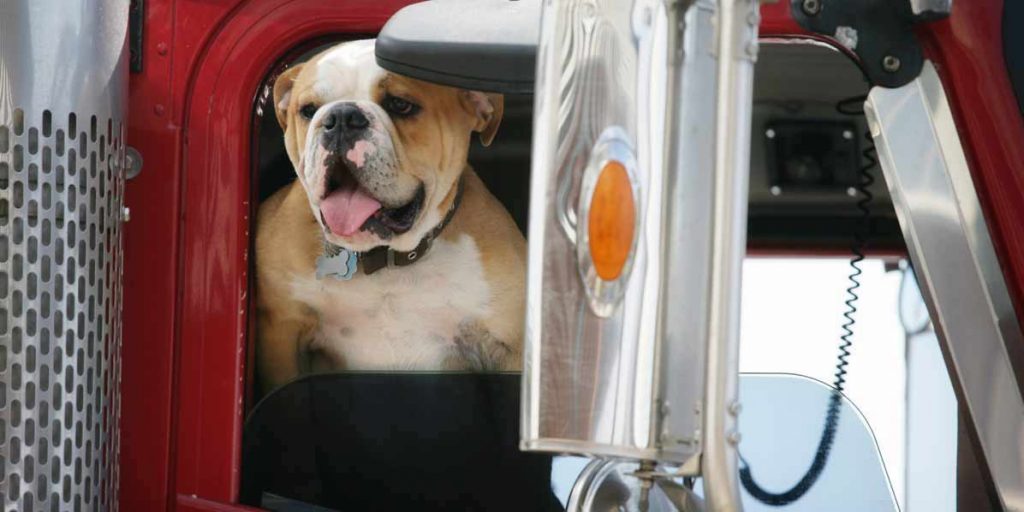 The trucker dogs are the ones that you enjoy spending time with and that fits your trucking lifestyle. To make your time on the road more enjoyable, learn which trucker dogs are ideal for truck drivers, how to pet-proof your truck, how to keep your best friend happy, and which companies accept pets.
Can Truck Drivers Take Their Pets?
Before you take Rover out on the road, make sure he's allowed to ride in the cab of your truck with you. When it comes to furry passengers, several transportation companies have tight policies. Some businesses are more accommodating to our pets than others.
Even some pet-friendly companies don't make owning a pet on the road a very desirable or even realistic option. Some "pet-friendly" employers deduct money from your regular wage, impose large deposits, or otherwise penalize you for trucking with a dog.
Before you sign up and start driving, be sure the company allows pets. Unauthorized pets will ultimately be discovered, and you don't want to put your job at risk.
What's the Best Pet to Travel With?
Smaller, low-maintenance pets are ideal for traveling. The majority of truckers choose to travel with a cat or dog, although some have been granted permission to carry other animals, such as a parrot. Your trucking business will determine what kind of pet truck you are allowed to bring. Most only allow dogs or cats under a specific size, so double-check and ask permission if you're thinking about getting a different kind of pet.
Read more >> 8 Best GPS for Truckers in 2024
Top Trucking Companies that Allow Pets
Some trucking companies will allow you to carry your pet on the road, but they will deduct money from your wages or require a large pet deposit. Deposits as high as $2,000 are possible!
For company drivers who wish to bring their pets on the road, finding a pet-friendly employer is critical. Take a look at these pet-friendly companies if you wish to bring the greatest pets for truckers on your next route:
LTI Trucking Services: With LTI, the numbers speak for themselves. A whopping 40% of their drivers bring their dogs along for the ride. Drivers who want to bring a pet with them just have to pay a small refundable deposit.
J.B. Hunt:

This company welcomes pets weighing 60 pounds or less, but you cannot bring a breed that is considered "aggressive." Drivers who want to bring a pet must pay a $300 pet deposit.

Interstate Distributor

is one of the few transportation companies that permits you to bring two dogs with you on the trip. They also provide pet-friendly areas at their trucking yards, so you don't have to keep your pet in your truck while you're working there.

Roehl Transport

is well-known for having a pet-friendly workplace atmosphere. They even have pet runs at business rest stops and a Facebook group for its pet-owning drivers.

Knight Transportation:

You may bring up to one dog or cat with you, but any pet must be under 30 pounds. Given that the greatest dog breed for truck drivers is usually smaller, this isn't much of a disadvantage. To bring your pet along, you must pay a $400 deposit, of which half will be repaid when you cease traveling with Knight.
If you're an owner-operator, the decision to take your dog on the road is solely yours. You're ready to bring your pet (or pets) along with you and enjoy your life on the road now that you know the best dogs for truckers.
Top 10 Best Dogs for Truckers
While taking your pet on the road may seem like a good idea, keep in mind that truck cabs, even sleeper cabs, are small spaces. Living in a small place will be considerably more challenging if you have a large dog or one that sheds a lot. It will be easier to maintain your home clean and have room for your pet's bed and food bowls if you have a smaller pet.
Any breed that is low-maintenance, short-haired, low-energy, and weighs less than 25–30 pounds is considered the best dogs for truckers. Although many trucking companies accept pets weighing up to 60 pounds, these aren't always the greatest dogs for truckers. The larger the dog, the more space it will take up in your small cab. Many trucking companies will additionally state that "aggressive dog breeds are not permitted." Check their policy to learn what breeds are considered aggressive.
The following are some of the greatest trucker dogs breeds:
Pug

Labrador Retriever 

Chihuahua

Miniature Pinscher

Bulldog

Miniature Schnauzer

Miniature Poodle

Yorkshire Terrier

ShihTzu

Boston Terrier
Finally, the best trucker dogs for truck drivers are one that is a member of your family and is permitted to travel with you.
The Advantages of Traveling with Your Trucker Dogs
Taking your pet on a road trip isn't simply pleasurable. Finding the best dogs for truckers and bringing a furry companion with you also has some amazing physical and mental health benefits. The following are some of the many advantages of having trucking with a dog:
Blood pressure is lower.

Lower levels of cholesterol

Lowering triglyceride levels is a good thing

Immune system improvement

Stress levels are reduced

Depression is reduced.
Other advantages are more obvious. People who have pets, particularly dogs, are more likely to move around and get up more frequently as a result of taking their dog for walks or out for potty breaks. For truck drivers who spend a lot of time sitting at work, simply moving about more is a huge advantage.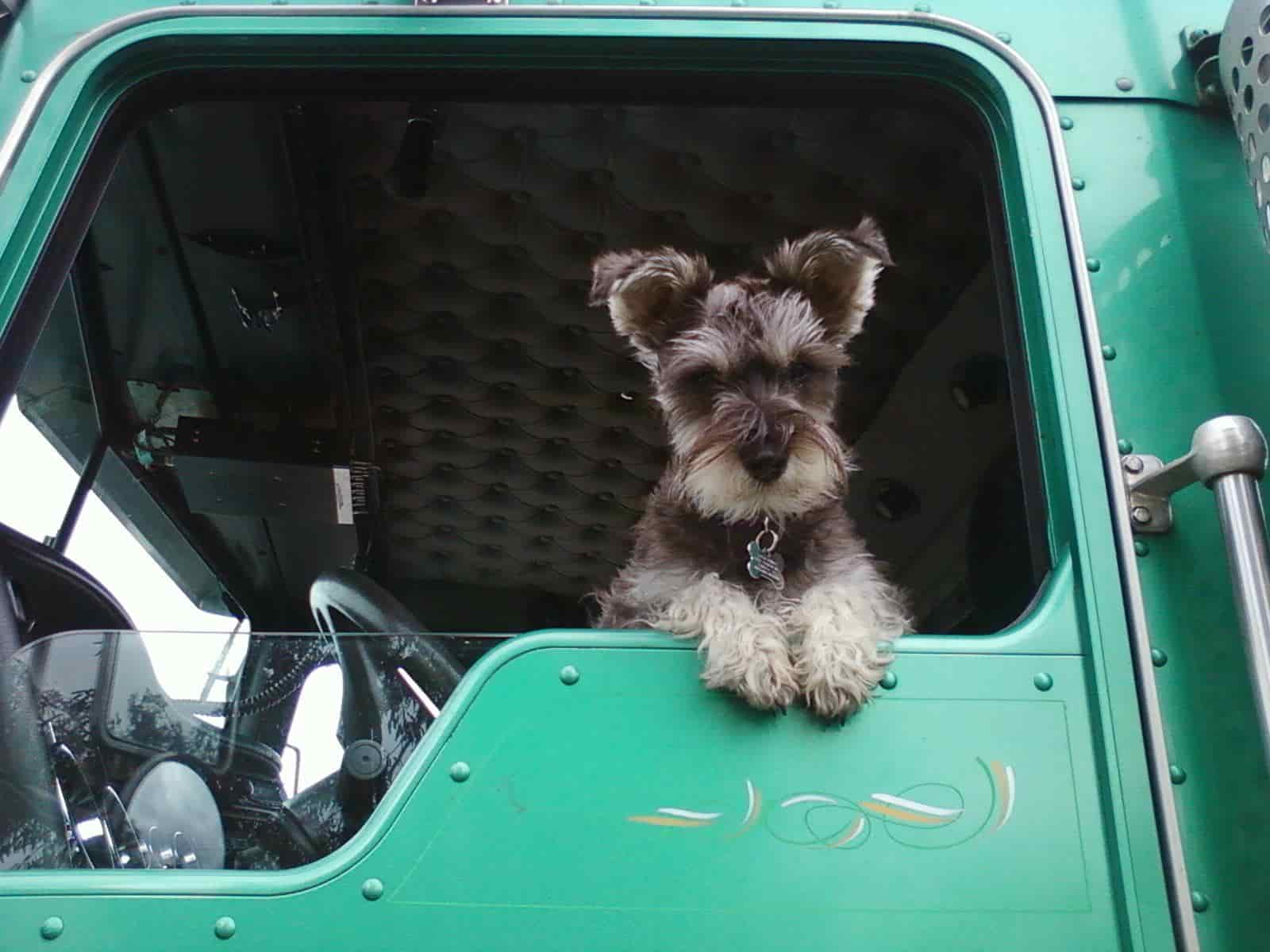 On the road, the greatest trucker dogs for truck drivers can also aid with loneliness and stress. Dogs and other pets give a good company, making extended periods of isolation bearable and even delightful. Having a dog as a buddy may even make you feel safer when you're away from home for women in trucking.
Tips for Traveling with Your Dog
Before tackling the open road, even the greatest dog breed for truck drivers needs to be prepared. Pet-proofing your truck will make your trip more enjoyable for both you and your four-legged friend. If you're going on a road trip with your dog or cat, make sure it's pet-proofed by performing the following:
Keep Food, Garbage, and Medicine Securely Stored:

Food, trash, and medicine should all be kept secure and out of reach of inquisitive paws when driving or at rest. These items are hazardous to pets and can rapidly become a mess in a small living space.

Secure the Driver's Area:

Even the greatest trucker dogs aren't safe when they get around your seat or, worse, when they get near your brakes and pedals. Block pet access to the area near your seat to keep your driving position safe.

Make Some Room:

 Your pet will require space to move about. Ensure that your pet is able to extend his or her legs safely during breaks.

Bring a Crate:

Smaller dogs are better for truckers, not just because they take up less space but also because they can fit in a crate if necessary. Having a crate available ensures that your pet has a secure home and is safe when you're delivering to places that don't allow or aren't safe for pets.

Bring Pet Cleaning Supplies and Poop Bags:

Even if your dog is well-trained, you'll need poop bags to clean up after them at rest breaks. Bring cleaning products to keep your vehicle's interior smelling clean and fresh. Look for pet-friendly and secure products.

Keep a Leash on Hand:

Having a leash on hand ensures that your dog does not run loose when there are hazardous conditions outside your vehicle.

Toys and Blankets:

Just like you, dogs require entertainment. They must also keep warm, especially when the weather turns cold.

Bring Extra Water for Rover:

Keep your dog healthy by bringing extra water with you.
Following these general guidelines will assist you in providing a safe and enjoyable driving experience for your pet.
Read more >> How Often Do Truck Drivers Come Home?
What Can You Do to Keep Your Dog Safe While You're Driving?
It's just as vital to keep your closest buddy safe while driving as it is to keep yourself and others safe. A risky situation for your pet is distracting to you and will not result in a pleasant driving experience for you, your pet, or other drivers on the road. Here are some helpful tips for keeping your pet truck safe:
Use a Seatbelt:

Yes, pets can (sort of) use seatbelts. Pet harnesses are designed to work with your ordinary seat belts to keep your dog safe. They prevent your pet from sliding around or getting into an unsafe situation while you're driving, which is especially important if you have to brake quickly.

Train Your Dog:

For some pets, riding in a truck is a totally new experience. If you don't use a harness to hold your pet, teach them to stay away from the steering wheel and pedals. They'll need to be trained so they don't put themselves or you in danger.

Get Some Driving Experience

: If you're new to trucking, you should spend at least six months on the road before bringing a pet along. Allow yourself some time to adjust to life on the road and get some distraction-free driving experience before adding a pet with you.

Make Regular Stops:

As you work and travel with your dog, you'll acquire a sense of how long he can go between potty breaks. Make sure you stop frequently so your dog does not get into an accident in your truck.

Maintain Your Dog's Hydration:

Dogs can become dehydrated as well. Bring water for them to drink while you're driving.

Take precautions Getting into and out of Your Truck:

While most dogs can easily climb into and out of a standard vehicle, a truck is much higher off the ground. Jumping in and out on a regular basis can cause injury to your pet. Assist your dog in and out of the house, or provide a device that allows them to do it independently.
Your dog will be healthy and happy if you follow some general safety tips.
It doesn't have to be difficult to find the best trucker dogs. Many employers will let you have a pet if you locate a breed that meets their requirements. The greatest dogs for truckers are those that fit your lifestyle and provide excellent companionship when driving long distances. Find the best dogs for truck drivers and enjoy your newfound pet while living the life of a trucker for years to come.
If you are planning to get your CDL license, let's start practicing with our free CDL practice test pack for all CDL endorsements on this website!